Pico-generator
PICOGEN®
Front turbine body
External casing of the turbine that connects to the pipe by standard means.
Front turbine block
Element guaranteeing turbine block tightness, concentrates and accelerates the water flows over the propeller blades.
Propeller & alternator
An alternator with no seals and no grease, immersed in and lubricated by the water. Blades designed to make the most of low speed flows.
The picture above shows the Turbine Front Body, the Turbine Front Block and the Propeller & Alternator.
We help water system operators to provide quality services and avoid them management complexity through real time information feedback with our PICOGEN® standalone power supply solution.

PICOGEN®, energy for intelligent drinking water networks
The PICOGEN® innovation offers access to renewable, available and currently unused energy on the spot, in a move towards a more reasonable energy mix and reasoned consumption.
The PICOGEN® technology, with its multiple patents, broadens the range of possibilities by using energy from low speed flows.
The easy installation and limited maintenance requirements of the PICOGEN® solution result from its stream-lined design, devised to make life easier for users.
The PICOGEN® turbine is a unique response to market needs: it enables autonomous supply of electric equipment throughout the network, even in isolated sites, sites where flow speed is low and sites with a low admissible head loss.

A breakthrough innovation to optimise efficiency
The solution comprises:
– An innovative turbine that adapts to the most common pipe diameters.
– A control device or regulator to deliver and optimise electricity production.
PICOGEN® is fitted in-line on water network pipes to supply the various electric devices.
An integrated bypass (patented) to avoid the need for network derivation and to ensure network safety in the event of sudden high flow speeds.
Technology
Save Innovations offer is dedicated to securing (energy & quality) water networks.
Simplicity
Quick, simple, in-line installation, according to industry standards, on pipes without requiring a bypass.
Adaptability
Adapts to all sites and types of use: electricity is produced even from low speed flows with little head loss.
Robustness
Reduced maintenance by design, no moving seals and no lubrication required.
Autonomy
Access to electricity without needing a connection to the electric grid.
Safety
Built-in safety device to protect the project and its environment, notably against water hammer effects.
Supervision
Real-time monitoring of production and consumption.
Water networks: Sectorisation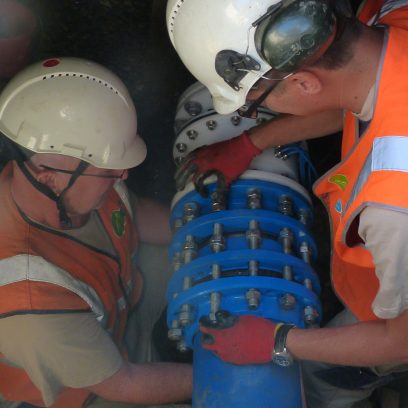 Sectorisation is an efficient means of controlling water leaks. It is essential to have real-time information at key points of the networks.
Find out more
Water networks: Collection
It is important to control drinking water quality at source. It is essential to have real-time information on the physical and chemical properties of the water.
Find out more